Combination Brake Casters - 8 inch Diameter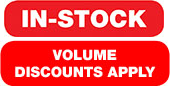 FOB: Midwest warehouse
Swivel Construction — Cold formed from 1/4" thick steel, case hardened for long life. Legs formed from 1/8" thick steel.
Kingpin — 3/4" diameter heat treated bolt with separate lock nut.
Main and Secondary Load Bearings — Two full rows of steel balls rotate in separate heat treated raceways.
Axle — 1/2" diameter bolt with lock nut.
Lubrication Fittings — In swivel assembly and in hubs of roller bearing wheels, except as noted.
Top plate: 5" x 5-1/2", slotted bolt holes.
Featured Wheel Bearings:
Precision Ball Bearings - double sealed, maintenance free, superior rollability aids manual applications, not recommended if shock loading is prevalent.
Straight Roller Bearing - traditional anti-friction bearing, best for manual applications where shock loading (but no side thrust) is prevalent.
Delrin Bearings - Chemical and corrosion resistant plastic-type bearing
If you need a large quantity of this product, call us at 1-800-338-1382 for additional bulk discounts!